I do registration at VBS. I do not enter the sanctuary for the chaos fun. Those of us who do registration are either teachers or have been teachers. We stick together away from the chaos fun. Some think as teachers we should want to be in the big middle of it, but I say I love kids in a structured environment. Ha! It has been a great week - the kids are excited - the Gospel has been preached - and tonight is parent night.
It has not been a great week for my weight loss challenge. At VBS every evening, they have a table of great food for the workers and homemade cookies for the kiddos. I even had to bake chocolate chip cookies - one of my favorites! With tonight being parent night, there will be no table of food, but plenty of cookies and either snowcones or possibly frozen yogurt. Hmmm...maybe the table of food would be better?
Anyway...this posting my progress definitely helped me through the week. I did not 'let loose' and enjoy all the food. I showed some self-discipline, but I did have sweets everyday which is not good for me! My numbers are not as bad as I figured they would be...both are up so a bit of a setback but I know I will do better next week without all the temptation.
:-)
Pounds: +1.4 (for total lost of 4 pounds)
Inches: +1.25 (for total lost of 4.25 inches)
Don't forget about our Super Summer Sale going on now through June 25th!

Our entire store is 20% off and since most of our items are $2 or less, you can grab some great resources for CHEAPO! :-)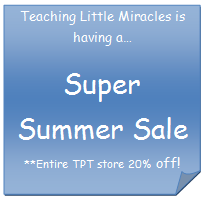 Crystal