I am so excited to be joining Tammy with a "Saturday Saying" of my own today. There have been many Saturdays that Tammy's posts have been exactly the inspiration I needed to push myself to become a better teacher. In fact, when she asked for volunteers, I told her I'd love to do it but was worried about the pressure—and I was only half joking. If you don't make it a point to read her "Saturday Sayings" each week, you should. They really are thought provoking and inspirational.
This quote was actually included on something our principal sent out recently, along with this brief summary of Frankl's history:
Viktor Frankl (the author of the quote above) was one of the millions of Jews placed in Nazi concentration camps during World War II. He lived in prison camps and watched as many of his friends were killed and while some of his friends committed suicide. He decided there was one thing that no one could take away—his ability to choose his attitude.

Dr. Frankl not only survived but became one of the most respected psychiatrists the world has ever known.
I asked my principal if I could use it today and she agreed. She took the quote from Life's Greatest Lessons by Hal Urban, which I will admit that I have not read—yet.
This seemed like the perfect "Saturday Saying" because it combines two things that I believe are important in life (not just teaching) – choice and attitude.
If you've read our first blog post, you know that I haven't always been a teacher. This is only my third year. Before going back to school to get my degree, I was a school secretary so I have been in education for about seven years.
Something that I have observed is that teaching is a profession with high demands, long hours, and constant change. We also often face unexpected—and definitely out of our control—interruptions to our schedules and plans. These pressures can cause us to whine, complain, and have bad attitudes. We might even make things worse by looking for agreement from our colleagues and before we know it, we are having a big "pity party."
I bring this up—not in a judgmental way—but because I am constantly reminding myself that I have a choice in how I respond to those pressures that come my way.
The truth is we can't control a lot of the circumstances we face in teaching—or life in general—but as Frankl said, we can choose the attitude we will have in those circumstances.
We can choose to be excited and upbeat to teach those precious kiddos who have been entrusted to us.

We can choose to be positive when facing another "boring" in-service.

We can choose to face MTSS or RTI (whatever your state calls it) with a smile.

We can choose to be flexible and accommodating when our schedule is interrupted.

We can choose to find joy in teaching (again—if we've lost it).
My list could go on…but I'll stop there.
I hope this "Saturday Saying" has been an inspiration to someone else, but I know that just writing it has been a good reminder for me to choose a better attitude!
Don't forget to head over to Forever in First for more "Saturday Sayings!"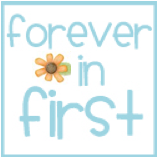 Crystal
P.S. Speaking of that first post, that was a year ago this week! WOW!!!